In Online Banking, when I view Transaction History, is there a "Print" button on the page?
You can print your Transaction History within online banking by selecting the "Print" link (see screen shot below).
There are several date range options including the current month or the last 12 months.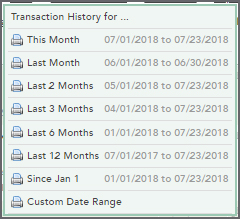 Once you select a date range a new printer friendly page with your selected date range will appear. Select the "Print this page" button in the top left corner.