Can I stop or change my request to transfer funds in RCU Online banking?
Yes. At anytime before you get a system confirmation that the funds were transferred, you can modify or cancel your funds transfer request. However, after you've completed a funds transfer transaction and have received a confirmation number, you are no longer able stop the transfer from occurring.
If you change your mind about the amount you wanted to transfer, simply make a new transfer to move the funds between the appropriate accounts.
How do I view/edit scheduled transfers?
To view or edit scheduled transfers sign on to Online Banking. Under the top navigation go to "Transfers & Payments", select "Transfers".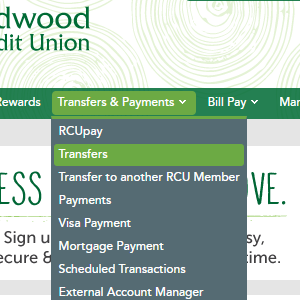 The scheduled transfers display on the top left corner. Click on the link to view all currently scheduled transfers.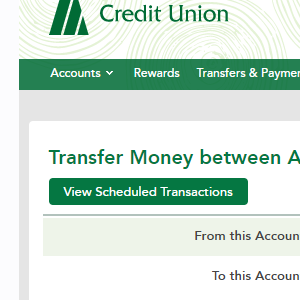 You can edit your transfers on the Currently Scheduled Transfers summary page by clicking the "edit" icon.