What are Alerts in online banking?
You can receive email and/or text notifications (alerts) to help you monitor activity on your RCU accounts. This service is free to Members who use RCU online or mobile banking.
Some of the alerts you can receive include:

Low balance alert lets you know when your checking or savings account balance falls below an amount you specify. This can help you manage spending and avoid overdrafts.
Sign-in alert notifies you when a login occurs on your account. This can be helpful for detecting potential fraud.
Deposit alerts let you know when funds are credited to your checking or savings account. This alert is helpful if you have direct deposit set up for your paycheck or other payments to let you know the funds have been deposited.
Overdraft transfer alerts notify you when funds have been transferred from your savings to your checking to cover an overdraft.
Weekly account update shows you a weekly summary of transactions on your account.
Here's an email example of a Low Balance alert.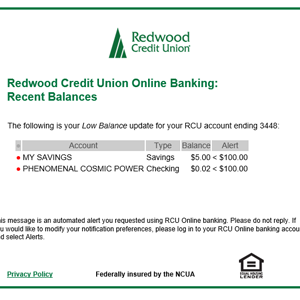 Here's a text example of a PIN Change alert.
For more information on RCU Online Banking Alerts please view the following articles: