How do I set up a recurring transfer between my accounts in RCU Online banking?
1. To set up a recurring transfer between your accounts sign in to online banking. Under the top navigation go to Transfers & Payments and select "Transfers".
Note: If you want to transfer money from an RCU account to another person at a different financial institution please review our RCUpay, Bill Pay, and Wire Transfer options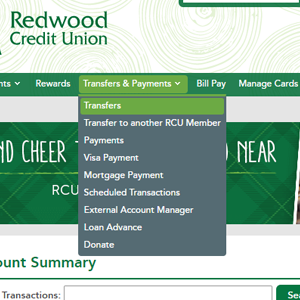 2. On the transfer page, choose the account the money is coming out of and choose the receiving account.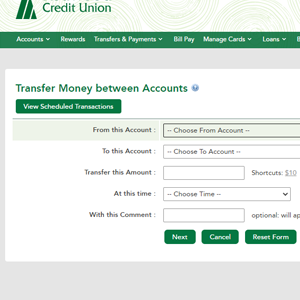 3. Add the transfer amount and choose a time to transfer the funds under "At This Time" - schedule it for a future time or for immediate transfer, select "Right Now." This scheduling option allows you to schedule recurring transfers including weekly and monthly.
Once you have decided on your schedule, choose the start date and you have the option of choosing an end date. Click "Next" to continue.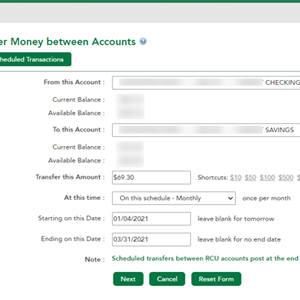 4. Please review your selection to confirm all information is correct. Once you are ready click "Confirm Transfer".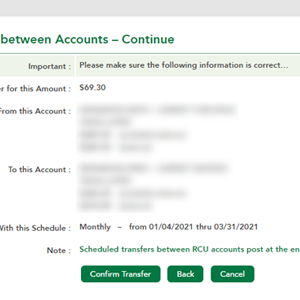 5. The confirmation page will display all your scheduled information.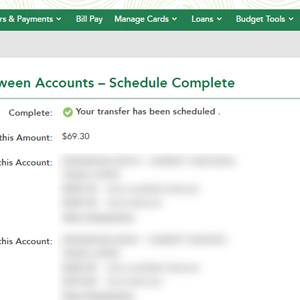 Review Scheduled Transfers
To view or edit your scheduled transfers go to the "Transfers & Payments" menu and click "Scheduled Transactions."
1/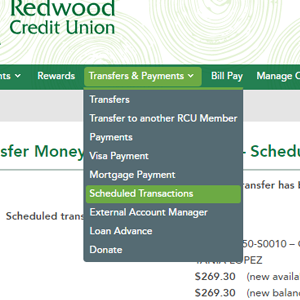 This page will show all the types of transactions you've selected such as "Payments", "Transfers" and "External." You also can edit your transfers on this page.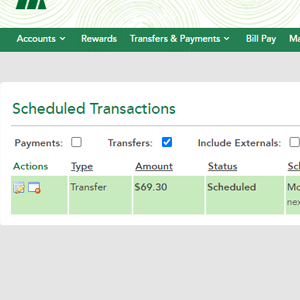 With This Schedule: Right Now
If you have scheduled your transfer for "Right Now," it will deduct that amount from your account at that moment. Your transfer transaction will display in your account summary.