What are the default alerts I can use in RCU online banking?
RCU provides several default alerts designed to provide you with information that helps protect you and your account.
As a security measure, we will always alert you whenever you change your account profile information or conduct an external transfer (to or from another institution).
Default Alerts
To see all the default alerts RCU provides, go to "Alerts" and click "Edit."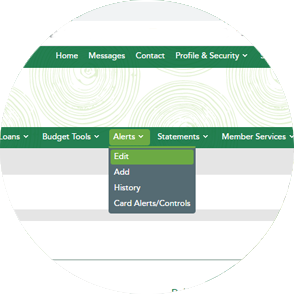 To enable and modify default alerts, click the "Edit" option under the Actions column, or click on the alert name. Here are some of the available default alerts:
Low Balance
Every Sign In
Large ATM Withdrawal Alert
Checks Posted to my Account
Auto Deposit
A Fee From Overseas (potential fraud)
Weekly Account Update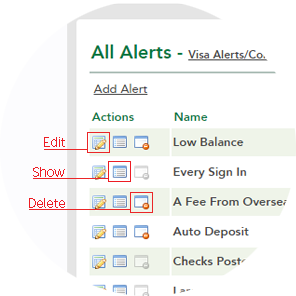 Once you select your alert, review the Alert Details, and adjust the settings to your preferences. Be sure to choose the account you would like the alert set up for, and how often you would like to receive the alert.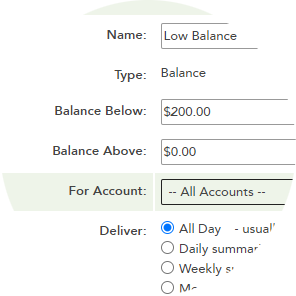 Scroll down to Send Alert To and set your notification preferences. You can choose to have the alert emailed or sent via text your mobile phone. The Other contact information section provides an option to enter additional email or mobile phone information. You may enter up to five email addresses or mobile phone numbers where you would like to receive alerts. Note: Changes made to this screen do not update the contact information for your account. To add or update contact information on your account, update your Profile from the main online banking menu.
When finished, click "Save".
For more information on RCU Online Banking Alerts please view the following articles: