How do I view VISA credit card eStatements?
You must be enrolled in credit card eStatements. Please review the following article to find out how to enroll:
Viewing Visa eStatements within Online Banking
To view your Visa eStatements go to the Statements tab and select VISA eStatements.
Note: If you recently enrolled in eStatements it will only show statements from the time you signed up.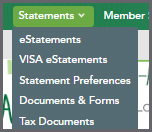 Select Visa from the secondary navigation. Click on the PDF icon

to view or print your statements.