How do I view or edit loan due date reminders in online banking?
To adjust the reminders that appear in the sidebar, log in to online banking and follow the instructions listed below.
By default, online banking loan payment reminders appear and can be edited in the sidebar of online banking. Click on Settings to edit your reminders (see screen shot).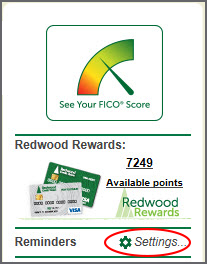 By default, the following reminders appear in the sidebar:
Loan Payments Upcoming
Loan Payments Due
Credit Cards Due
External Transfers
Scheduled Transactions
Certificates Maturing
Uncheck the reminders that you do not want to display.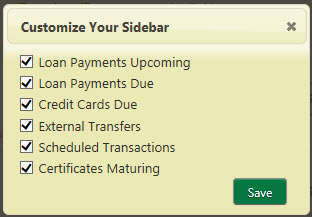 Once your changes are saved, you will see the updates appear in the sidebar.
Below is an example of the reminders displayed in the sidebar.