Where and How Do I Mail a Loan Payment to RCU?
---
1. Include the loan coupon along with the check.
2. Include your 6-digit account number and the 2-digit loan ID:
Loan ID: Your loan ID is the 2-digit suffix found under the "Loans and Credit Cards" section of your Account Summary page, shown as item (1) below.
Account Number: Click "Show account number" beside "Deposit Accounts", shown as item (2) below. This opens a window that displays your full account number - you need the 6-digit suffix, shown as item (3) or item (4) below.
In the example below, the Account Number - Loan ID combination is "123456-02"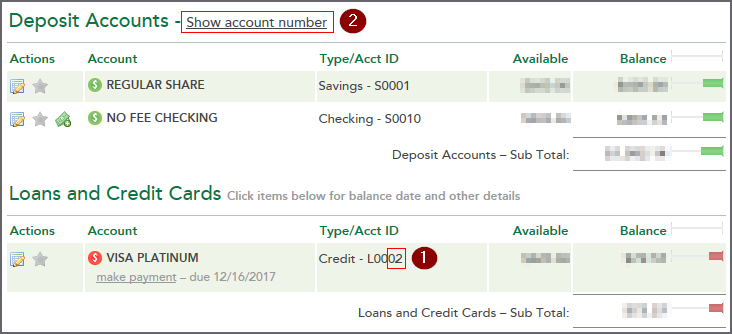 ---
Payments on consumer loans are to be mailed to the address below:
Redwood Credit Union
PO Box 35157
Seattle, WA 98124-5157
---
Pay for your loan/s in a convenient and easy way through Online Banking. For more information, click here.