How do I apply for a loan or credit card at Redwood Credit Union?
Redwood Credit Union offers several easy ways for you to apply for Personal Loans and Credit Cards. Whether you are an RCU online banking user or not, or whether you are a non-Member wishing to apply for a loan with us, we have an option that will help you.
Please visit our Personal Loans page to learn more or to apply online.
Online Banking Loan Center
To apply for a loan within online banking navigate to Loans in the menu and click on Apply.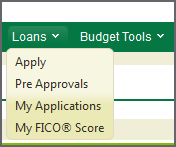 In RCU's Online Loan Center you can apply for a new loan or credit card and manage a loan in process.