Loan Payment Options - Making a payment in online banking from an RCU account
Paying from an RCU Account
---
What types of accounts can be used to make a loan payment?
Any RCU account with a balance to cover the payment amount (savings, checking and money markets)
What types of loans can I pay from an RCU account?
Auto loans
RV loans (including motorcycle, trailers and boat loans)
Visa Credit Card payments
Personal loans
Mortgage loans (including HELOCs)
Processing Time
Instant when selecting "Right Now" (You may choose "Right Now" or any date in the future)
---
Online Banking Tip: How to make a loan or credit card payment
Step 1: Get started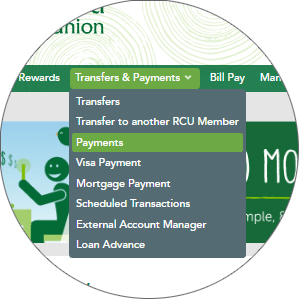 After logging into online banking, select from the main menu Transfers & Payments
Click Payments
---
Step 2: Make a payment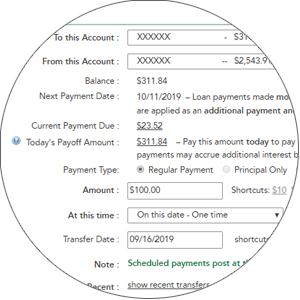 On the Payments screen:
Select the account you want to pay towards.
Select the account you'd like to pay from.
Enter the required information (amount and time).
Select Next once complete.
---
Step 3: Verify your payment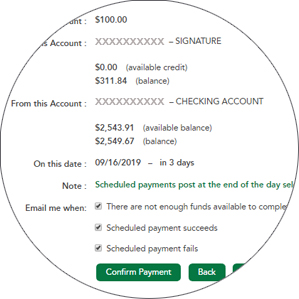 Verify the information is complete and accurate.
Select Confirm Payment to complete the payment.
---
Step 4: Payment complete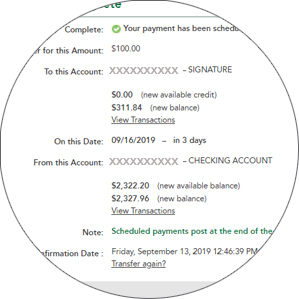 Your loan payment is scheduled and completed!