What is Verification of Deposit
What is Verification of Deposit (VOD)?
Verification of Deposit (VOD) is usually requested when someone applies for a house or a loan. These verifications include a 60-day or 6-month average of share and loan balances, the date they were opened, and any dividends paid.
How much does it cost?
Printing a Verification of Deposit through online banking is absolutely free!

It's also free for low-income housing applicants and business lines of credit with vendors.
(Only non-RCU mortgage applications and line of credit applications from casinos are charged a cost-recovery fee of $20.)
How do I get one?
You can generate a Verification of Deposit yourself! Log in to your online banking account and at top-right, hover over Member Services. From the list that appears, click Verification of Deposit, as you see below.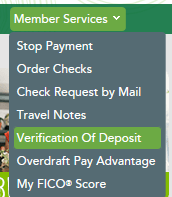 After you click Verification of Deposit, you'll see a box asking you to put a check mark next to the account(s) you're interested in. Check the boxes you need, click Download, and you'll get a pdf on RCU "letterhead" containing the information you asked for.
Note: The information you'll get in the pdf is the same as what we'd generate for you. But some agencies will accept the Verification of Deposit only if it comes from the financial institution directly. If that happens, log in to online banking and click Contact to send us a secure request.