Loan Payment Options - Mobile Loan Payment by Check
Mobile Loan Payment by Check
Simply take a picture of the front and back of your check, confirm the amount is correct and submit – loan payment complete!
What is a mobile loan payment by check?
Pay Loan by Check means using your mobile device to perform a mobile check payment, similar to a mobile check deposit. The process is simple and easy to use – it's the same as a mobile deposit!
How will I know if my loan payment by check was accepted?
A confirmation email will immediately be sent to the primary email address on the account
The loan balance will be adjusted within mobile and online banking
What types of loans can I pay by picture check?
Auto loans
RV loans (including motorcycle, trailers and boat loans)
Mortgage (including first & second mortgages and most HELOCs)
Visa Credit Card payments
Personal loans
How do I pay a loan by check with the RCU mobile app?
Click on "Transfers & Payments"

Select "Pay Loan by Check"
Follow the prompts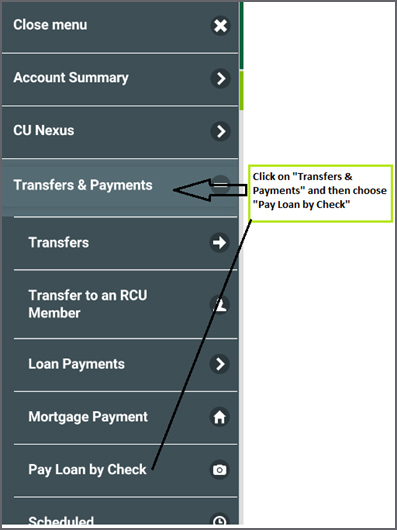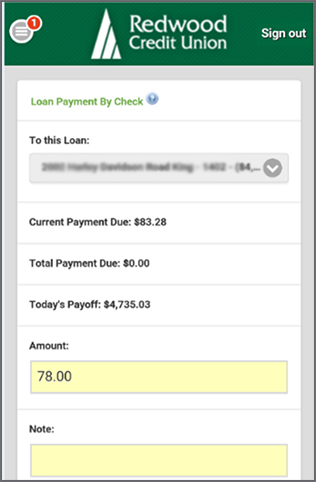 Select which loan account from the drop down menu.

a. Enter the amount you'd like to pay (the amount on your check)
b. Ensure your check is written for the same amount.
Write your check to: Redwood Credit Union

Take a photo of the front and back of your check

Lay the check on a flat surface, hold the camera parallel to the check
Review the check images and confirm


Select "Next" once you've confirmed the image is accurate
Confirm Payment – you're complete!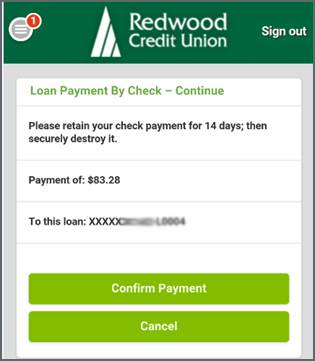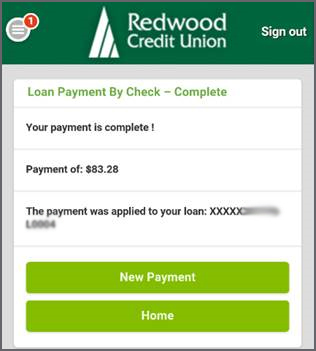 If help is needed during the process, click the question mark for more information!