A Comprehensive Look at Buying and Owning a Home (English)

BALANCE Financial Fitness is a program paid for by Redwood Credit Union to provide our Members free access to tools and tips for better money management. Whether you're interested in creating a budget, developing a workable spending plan, getting out of debt, understanding and improving your credit report, buying a home, or planning for your financial future, Redwood Credit Union, and our trusted partner BALANCE, are here to help.
BALANCE is a confidential financial education and counseling service committed to helping individuals and families nationwide take control of their finances and reach their goals. On the BALANCE website, you'll find information about what they do, who they are and how they can help you master your money. To speak with a BALANCE representative call 1 (888) 456-2227, toll free.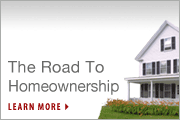 Buying a home is at once an exciting and challenging venture. With commitment, planning, and learning, you can become a successful homeowner. This 5-page program - with an optional quiz to ensure understanding - covers everything you need to know to start the home buying process off right, including:
Preparing for Homeownership

Understanding Mortgages

Getting a Loan

Searching for a Home and Making an Offer

Closing and Tax Benefits
Click on the image to get started!