How do I change my RCU Online banking challenge (security) questions, username or password?
If you would like to change your challenge (security) questions, password, or username for your online banking, you will need to log in to your RCU Online banking and follow the steps below:
Click on the Profile & Security menu and then click on Password & Security.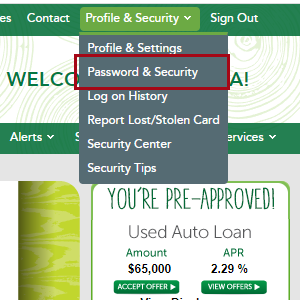 Select Edit to the right of the section that you wish to change. You can also select Change Username or Change Password from the sidebar menu.
For your security, a verification code is required to complete this process. An additional security prompt will display on the screen requesting to send a passcode to you for verification. A text message, phone call, or email can be sent to you containing the verification code, and it will allow access to update the account information.
Once the method of communication is chosen, you will receive a 6 digit passcode that will allow access to update that information. If none of the information is current on your account in order to contact you, please choose the "None of the above" option, and contact our Member Service Center at 800-479-7928 to receive your code.
Once you do receive the code, please enter it in the verification box and click Confirm Passcode. If you did not receive the code the first time around, feel free to select the option to the right to have it resent. If there were multiple pass codes received, only the most recent one will be valid. If the communication method that was chosen does not produce a pass code even after resending it, please select the cancel button, and choose a different method.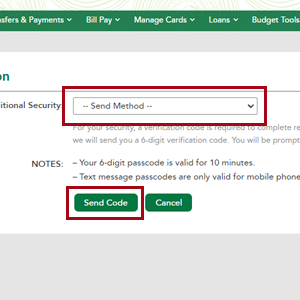 Once the code has been accepted, you will be able to update your profile information. Click Save when finished. Please visit AskRCU if you have further questions.